Roll over image to zoom in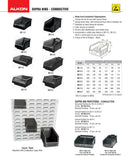 Description
Alkon FPO Conductive Supra Bin SB2-C (for ESD Anti-Static Use)
Art No:  SB 2-C
Outside Dimensions in mm : 170 (L)  x 100 (W) x 85 (H)
Inside Dimensions  in mm : 157 (L)  x 80 (W) x 75 (H)
PROTECT ELECTROSTATIC SENSITIVE DEVICES
ABOUT ELECTROSTATIC DISCHARGE (ESD)
To a greater or lesser extent all contact between objects, every separation of one item from another, each sliding of one thing on another, causes a disturbance of electrical charge. When charge disturbance takes place faster than charge redistribution, static charge accumulates. ESD occurs where charges of different electrostatic potentials meet. The ow of electrons is usually sudden and releases energy that can damage electrostatic sensitive devices (ESDs) This is referred to as triboelectric generations.
Static charges of up to 30000 volts are not uncommon and can be generated by the simple act of walking across a floor, yet a discharge of only 10 volts can destroy a class 1 ESD-sensitive device.
A material that inhibits the generation of triboelectric generation is classified as anti-static. 
Only conductive or static dissipative anti-static material should be used in ESD-protected areas.
Please note: Colours shown are similar, not exact to actual product colors. We ship randomly.