Roll over image to zoom in
Description
STANLEY 42MM PE PPR PVC PIPE CUTTER 14-442
The STANLEY 14-442 PVC pipe cutter is known for its durability and reliability. This cutter makes the process of cutting PVC pipes very convenient and efficient. It has a self-adjusting mechanical lever that lets you cut more of the pipe with every push. Moreover, this pipe cutter has been designed to effectively cut pipes with a diameter of 42 mm, which makes it compatible with a wide range of PVC pipes.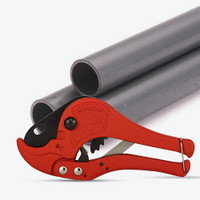 Cuts PVC with Precision
The STANLEY 14-442 PVC pipe cutter is a reliable cutting tool that can be used to cut thick PVC pipes efficiently. Moreover, it is equipped with a mechanical lever that simplifies the pipe-cutting process by adjusting the position of the head as per the requirement of each cut.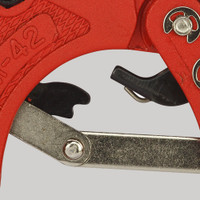 Self-adjusting Mechanical Lever
The mechanical lever in this pipe cutter self-adjusts itself and allows you to cut the pipe a bit more with every push. Moreover, you can get instant and precise cuts as this pipe cutter's cutting edge does not move upwards from its position while you're operating the lever.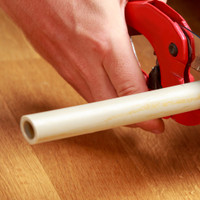 Capable of Cutting Pipes (Up to 42 mm)
You can easily work on electrical fittings and water supply pipelines with this pipe cutter which has a pipe-cutting size of up to 42 mm. Plus, you can complete your pipe-cutting tasks in a hassle-free manner with this pipe cutter that has a curved support to accommodate the pipe and a cutting edge with a wide opening.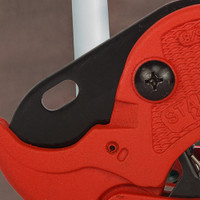 Blades Made of Stainless Steel
Forged out of high-quality stainless steel, this PVC pipe cutter offers the rigidity and strength required to facilitate efficient performance. Its reliable structural strength lets you cut through bulky PVC pipes with ease.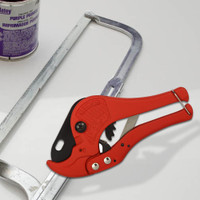 Heat-treated Stainless Steel Blade
The stainless steel blade of this pipe cutter is subjected to a heat treatment to further enhance the metal's properties. This treatment also increases the longevity of the blade. Plus, the black coating on the blade helps it withstand rust and corrosion.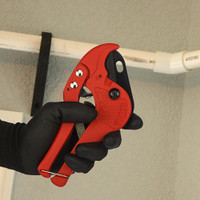 Ergonomically Designed for Comfort and Convenience
You can exercise precise control on this pipe cutter while operating it, thanks to its ergonomically designed curved handle. The handle has been designed to offer you the required amount of hand support. Furthermore, the ergonomic design prevents your hands from getting strained during the pipe-cutting process.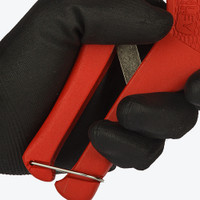 Handle Lock for Easy Portability and Storage
This pipe cutter's handle includes a lock below it which lets you store and carry the tool without any hassles. Plus, the pipe cutter's clip-lock mechanism enables safe and easy use.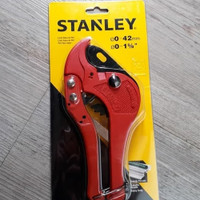 DIY and Professional Applications
This pipe cutter is a good fit for both personal as well as heavy-duty professional pipe-cutting requirements. It provides you with an efficient cutting performance that will help you ace all your DIY and professional projects. To top it off, this pipe cutter does not require any surface support to cut pipes with this pipe cutter.
Payment & Security
Your payment information is processed securely. We do not store credit card details nor have access to your credit card information.