Roll over image to zoom in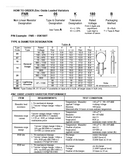 Description
MOV ZOV Metal Oxide Varistor 7mm 470V 0.25W
Varistors are voltage-dependent, nonlinear devices that have an electrical behaviour similar to back-to-back Zener diodes. Zinc oxide varistors are nonlinear resistors, consisting main of zinc oxide and several kinds of metal oxide additives. They are bilateral and symmetrical V-I characteristics curve and unparalleled large peak current capability are used for absorption of transient voltage, suppression of pulse noise and circuit voltage stabilization.

Specifications
Rated AC Voltage: 18-470V
Tolerance: ±10%
Body Diameter: 7mm
Model: 07K471/07D471K 
Operating Temperature: -40°C to 105°C
Applications
Surge Protection in consumer electronics 
Absorption of switching surge from various kinds of relays and electromagnetic valves
Electrostatic discharge and spike noise suppression.
Protection of various kinds of transistors, diodes, ICs, thyristors, Triac semiconductors, etc.
Automobile control systems such as transistorized ignition systems and electronic fuel injection systems etc.
Payment & Security
Your payment information is processed securely. We do not store credit card details nor have access to your credit card information.