Roll over image to zoom in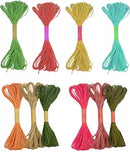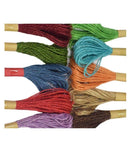 Description
10 in 1 Colorful 

Jute Threads For Art & Craft Making (Random Colour)

Jute thread is made of premium quality jute and comes in a variety of colors and combinations. Jute thread is an ultimate craft accessory used in various DIY crafts and has endless possibilities for use. From creating various items and accessories like baskets, bracelets, and jewelry to using them as packaging accessories, jute thread has several applications. Useful for wonderful projects Like Baskets, Bracelets, Jewellery, and More. Also, Use Them for Packaging purposes - Tie Them Around Bottles and Jars or Use Them for Tying Flower Bouquets. Children Can Use These Colourful Ropes for Various Art and Craft School Projects. Use Them for Art and Craft Work or Other Decorative Purposes

Note: Length, Colour, and Thickness may vary from pictures.